Ambu® Aura-i™ Disposable Laryngeal Mask
Ambu Aura-i is an excellent alternative to a face mask for achieving and maintaining control of the airway during routine and emergency anaesthetic procedures in patients evaluated as eligible for a supraglottic airway, or in situations where other attempts to establish an airway have failed.
Key Benefits
checkBuilt-in anatomically correct curve for fast and easy insertion
checkIntubating capability using standard ET-tubes
checkReinforced tip resists folding over during insertion and plugs the upper esophageal sphincter
checkBite resistance in the connector block prevents occlusions
checkConvenient depth marks for monitoring correct position
checkPilot balloon identifies mask size and provides precise tactile indication of degree of inflation
checkNavigation marks for guiding flexible scope
checkColor-coded packaging with directions for use
checkMR safe
checkPhthalate-free material
General information
Aura-i is the preferred device for establishing an airway when an ET-tube is deemed unnecessary or when unexpected difficulties arise in connection with airway management. It can also function as a conduit for an endotracheal tube in cannot intubate - cannot ventilate situations (CI-CV), as well as situations where is it necessary to place an endotracheal tube after insertion of the Aura-i.
Note: The device is not intended as a replacement of an endotracheal tube, and is best suited for use in surgical procedures where tracheal intubation is not deemed necessary.
New phthalate-free version
Ambu is currently introducing an updated version of this product. Using the same design, we are now able to deliver high quality phthalate-free material products.
As we switch from old to new version of the product, you may receive both versions. To learn whether a product is old or new version, please refer to the label of the product. If you find the below symbol on the label, then you have already received the new version.
Symbol on the new phthalate-free product:
Specifications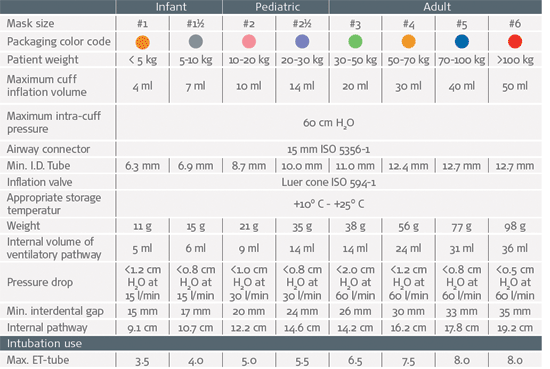 Spare parts
There are no spare parts or accessories for this product.
Downloads
Brochures
Datasheets
Instructions for use
Supplementary Information
December 2018
Note: US: Rx only