Continuous visualization of tube and blocker position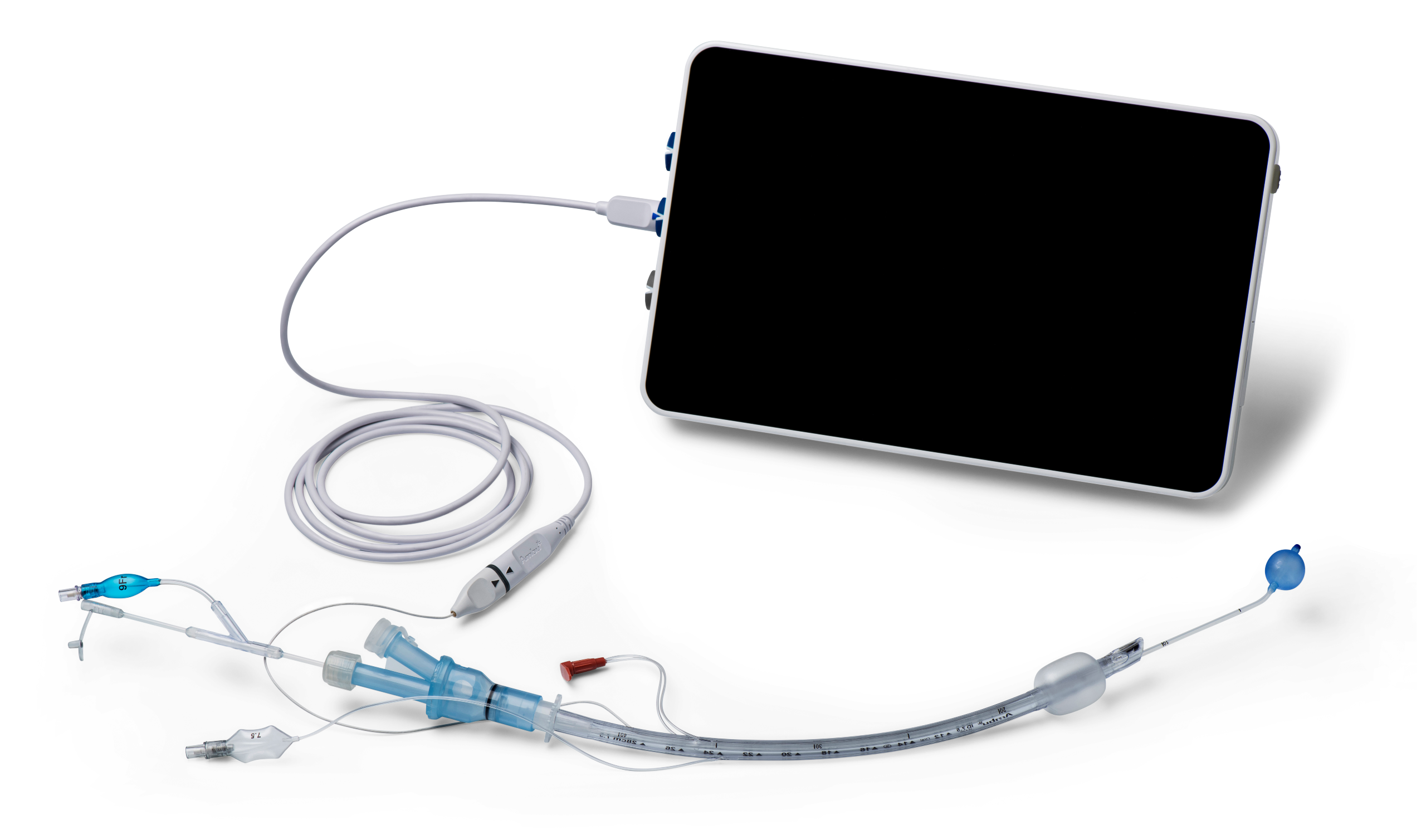 VivaSight 2 SLT is a sterile, single use endotracheal tube with integrated camera intended for:
Oral intubation procedures
General inspection of the airways and visualization during intubation procedures
Temporary artificial airway in adults requiring mechanical ventilation
Follow tube placement in real time
VivaSight 2 SLT is similar in design to conventional single lumen tubes. However, it is unique in that it has a built-in video camera that connects to an Ambu aView 2 Advance , a full HD endoscopy system with Dual View. This makes it possible to follow tube placement in real-time.
Benefits of continuous visualization
The integrated camera and continuous visualization of VivaSight 2 SLT provides several benefits:
Facilitates endotracheal intubation
Provides continuous visualization of endobronchial blocker position
Ideal for monitoring of correct tube placement
Significantly reduces the need to use a bronchoscope
Single-use endobronchial blocker
VivaSight Endobronchial blocker tube is a single-use endobronchial blocker designed for One Lung Ventilation when used in combination with an endotracheal tube (ETT). It is compatible with VivaSight 2 SLT and consists of a sterile, single-use, steerable balloon-tipped catheter, which is visually guided to a selected bronchial segment to provide balloon blockage of the distal airway.​
The full Ambu OLV solution
The comprehensive Ambu One Lung Ventilation (OLV) solution arms you with a wide array of products to handle the various situations that can arise during the OLV procedures.
The Ambu OLV solution includes Ambu® VivaSight™ 2 DLT and Ambu® VivaSight™ 2 SLT with an integrated camera, Ambu® VivaSight™ Endobronchial Blocker Tube, Ambu® aScope™ 4 Broncho Slim and other Ambu bronchoscopes with a small diameter. These bronchoscopes, along with VivaSight 2 DLT and VivaSight 2 SLT, are all compatible with our latest generation portable full-HD endoscopy system with Dual View, Ambu® aView™ 2 Advance.​
KEY BENEFITS
Overcoming the challenges of placement and positioning
Technical specifications
Sizes:
VivaSight-SL: 7.0, 7.5 & 8.0 mm (ID)
For OD and length, please refer to datasheet

VivaSight EB: 9 Fr, length 700 mm
Image sensor:
CMOS
Light sources:
2 white LEDs
Spare parts
There are no spare parts or accessories for this product.
Downloads
Brochures
Datasheets
Instructions For Use
May 2021
Note: US: Rx only
VivaSight is manufactured by ETView LTD and distributed by Ambu A/S