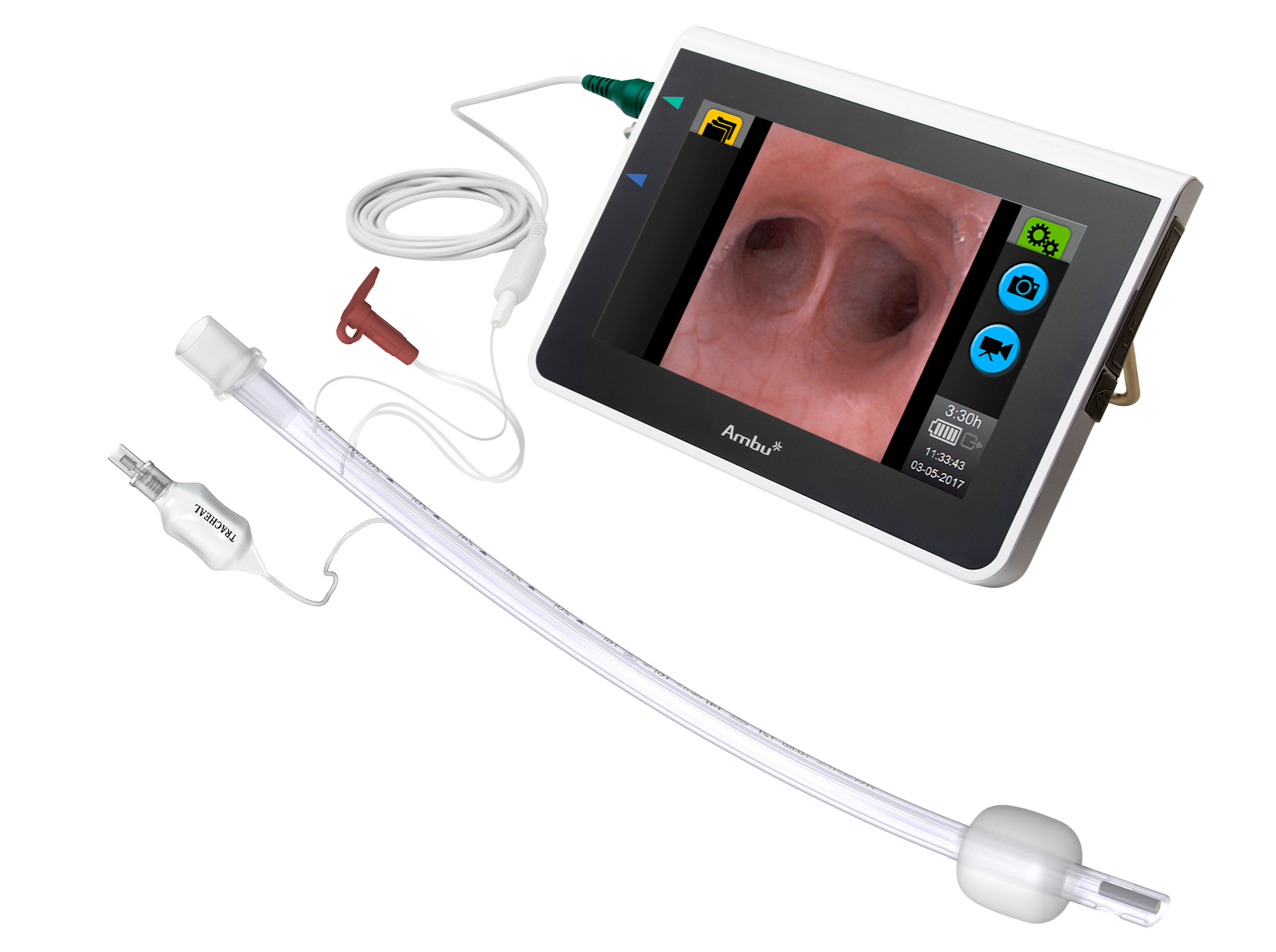 Continuous monitoring of tube and endobronchial blocker position
VivaSight-SL is a new generation of single lumen tubes with integrated high-resolution camera. The integrated camera technology makes placement of the tube fast and effective and provides continuous visual monitoring of endotracheal tube and endobronchial blocker placement throughout the procedure. VivaSight-SL is indicated for use during routine and difficult intubation procedures.
Together with the single-use endobronchial blocker, VivaSight-EB, lung isolation can be fast and effective ensuring that dislocation can be easily detected and corrected.
The full Ambu portfolio for SLV includes Ambu® VivaSight™ 2 DLT, Ambu® VivaSight™ 2 SLT (pending CE approval), and VivaSight-SL with integrated high-resolution camera together with the endobronchial blocker, Ambu® VivaSight™ Endobronchial Blocker tube, and the single-use bronchoscope Ambu® aScope™ 4 Broncho Slim. The portfolio offers the flexibility to choose between different visualisation solutions – all contributing to increased patient safety.
KEY BENEFITS
Overcoming challenges of placement and positioning
VivaSight-EB
Single-use endobronchial blocker
VivaSight-EB is a single-use endobronchial blocker designated for Single Lung Ventilation. It is compatible with VivaSight-SL for a complete airway management solution. ​The VivaSight-EB consists of a sterile, single-use, steerable balloon-tipped catheter that is visually guided to a selected bronchial segment to affect balloon blockage of the distal airway.
Technical specifications
Sizes:
VivaSight-SL: 7.0, 7.5 & 8.0 mm (ID)
For OD and length, please refer to datasheet

VivaSight EB: 9 Fr, length 700 mm
Image sensor:
CMOS
Resolution:
CIF 320 x 240 (76,800 pixels)
Depth of field:
12-60 mm
Field of view:
~100º diagonal
Light sources:
2 white LEDs (49.5mW – 66mW)
Spare parts
There are no spare parts or accessories for this product.
Downloads
Brochures
Datasheets
Instructions For Use
Supplementary Information
November 2020
Note: US: Rx only
VivaSight-SL is manufactured by ETView LTD and distributed by Ambu A/S