The future of endoscopy is single-use
add Details
We want to simplify endoscopy
The single most important question in healthcare today is how to improve patient outcomes with the resources available. And as the world population increases and life expectancy expands, the pressure mounts on hospital budgets, workflow efficiency and, ultimately, patient safety.
Flexible endoscopes raise specific problems because they are costly to purchase, reprocess and repair, they are not always available when you need them, and their use risks exposing patients to infections.
We believe that the challenges in flexible endoscopy should be addressed with single-use devices, and for more than a decade we have been harnessing the technology. In 2009, we launched the world's first single-use flexible endoscope: The Ambu® aScope™. Today, the aScope is used for pulmonary endoscopies in the OR and ICU at more than 3,000 hospitals across the globe. Single-use endoscopy has proven its worth in pulmonary endoscopy and the next step is to bring the advantages of single-use to other clinical areas.
Therefore, we now make you a promise: By the year 2020, we will offer sterile single-use scopes within the segments of pulmonary, urology, ENT and GI – including single-use duodenoscopes, gastroscopes and colonoscopes.
There is no doubt in our minds that a new and sterile scope for each and every patient is a great step forward for modern healthcare.
We are dedicated to making this future happen.
Lars Marcher
President & CEO
Ambu
Read more: The Future of Endoscopy starts now (pdf)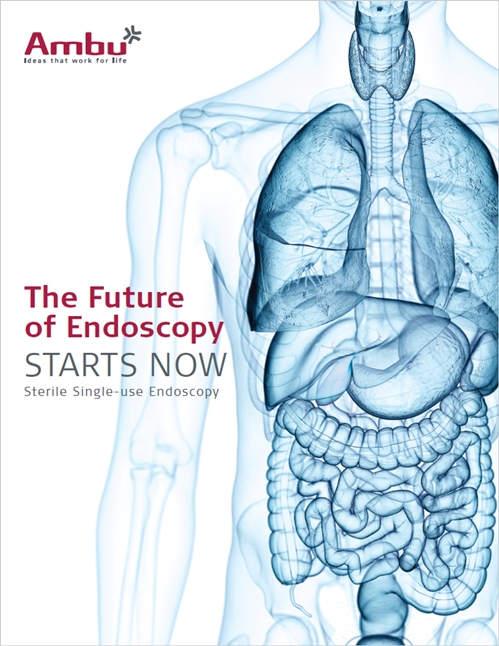 Ambu becomes a C25 company on Nasdaq Copenhagen
add Details
Today, Nasdaq Nordic has announced that as of 18 June 2018, the Ambu share will become part of the C25 index.
The C25 index is comprised by the 25 strongest shares listed on Nasdaq Copenhagen based on market cap and trade volume. The Ambu share is currently no. 21 on the list.
From Small Cap to C25 in 8 years
Ambu was listed on the Copenhagen stock exchange in 1992 and remained a Small Cap share until January 2011. Then in January 2017, Ambu moved from Mid Cap to Large Cap. With the current shift to C25, the journey from Small Cap has taken 8 years (or seven and a half to be precise).

Share price development from January 2011 to June 2018.
Capital increase in connection with exercise of warrants (no. 31)
add Details
In December 2013, Ambu A/S issued 2,000,000 warrants and in December 2014 2,000,000 warrants, each warrant entitling the holder to subscribe for one Class B share with a nominal value of DKK 0.50. 52 individuals participate in the 2013 scheme and 22 individuals participate in the 2014 scheme. In both cases, the vesting period is three years, and both schemes can therefore be exercised in the trading window that opened on 7 May 2018 in connection with Ambu's interim financial report for Q2 2017/18.
Since 7 may 2018, instructions have been received to exercise warrants as follows:
2013 scheme: Two individuals have issued instructions to exercise a total of 100,000 warrants at the agreed exercise price of DKK 13.26 per share with a nominal value of DKK 0.50.
2014 scheme: One individual has issued instructions to exercise a total of 140,000 warrants at the agreed exercise price of DKK 23.06 per share with a nominal value of DKK 0.50.
Today Ambu's Board of Directors decided to carry out the capital increase relating to the exercised warrants.
As a result of the capital increase, the share capital of Ambu will be increased by a nominal amount of DKK 120,000 from DKK 125,392,300 to DKK 125,512,300 through the issue of 240,000 Class B shares.
Following this and in consideration of the employees having left the company, there are 200,000 remaining warrants under the 2013 scheme being held by six individuals and 800,000 remaining warrants under the 2014-scheme being held by 11 individuals.
The new B shares are expected to be admitted to trading and official listing on NASDAQ Copenhagen A/S on 23 May 2018 under the ISIN code of Ambu A/S' existing B shares (DK0060946788).
Under section 10 of the Danish Executive Order on disclosure requirements for issuers, Ambu A/S is to announce the total share capital and the total voting rights by the end of a month in which any change of the share capital was effected. The table below shows the total share capital and the total voting rights of Ambu A/S after the capital increase.
Number of shares
(nominal value DKK 0.50)
Nominal value
(DKK)
Voting rights
A shares
34,320,000
17,160,000
343,200,000
B shares
216,704,600
108,352,300
216,704,600
Total
251,024,600
125,512,300
559,904,600
Download
You can download this company announcement (pdf).
Report for Q3 2017/18
add Details
Danske Bank Q3 roadshow USA
add Details
Boston & New York
10-14 September 2018
End of fiscal year 2017/18